FAMOUS LAST WORDS
Claudia Burgoa
Release Date March 11
Alternate Cover
From USA Today bestselling author Claudia Burgoa pens a page-turning tale of hard losses and second chances. This angsty romance will destroy readers' hearts and then put them back together again. Prepare to ugly cry like never before!
I shouldn't be alive. I should've died in that plane crash. Instead, I survived.
Thrived
, even. After all, I'm a rock star and a billionaire. There's nothing I can't buy. Nothing, except peace. And when it all comes crashing down around me… The guilt. The pain. The sorrow. That's when she appears. The one woman I'm not allowed to love. I needed her to fill the void after everything was lost. There she was, ready, and grieving too. Both of us are broken, shattered people. So why does she make my heart want to beat again? I need a new reason to keep breathing. And I think that reason—is her. Famous Last Words is a story of pain, forgiveness, and the faint, lingering hope of rekindling a love that once meant everything.
Pre-Order Links:
Amazon
https://amzn.to/47UHG1s
Apple
https://apple.co/47Ae6P6
Kobo
https://bit.ly/3GkNyFH
B&N
https://bit.ly/3QY3EtN
Google Play
https://bit.ly/47Rx5oi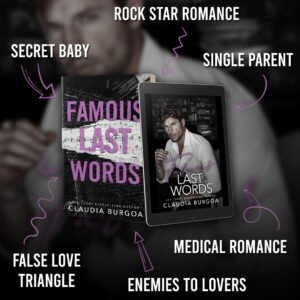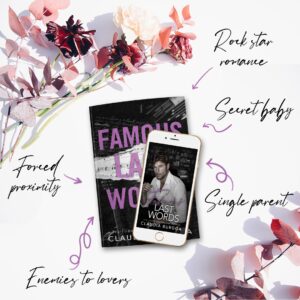 Meet Claudia Burgoa:
Claudia is an award-winning, USA Today bestselling author. She writes alluring, thrilling stories about complicated women and the men who take their breaths away. Her books are the perfect blend of steamy and heartfelt, filled with emotional characters and explosive chemistry. Her writing takes readers to new heights, providing a variety of tears, laughs, and shocking moments that leave fans on the edge of their seats. She lives in Denver, Colorado with her husband, her youngest two children, and three fluffy dogs. When Claudia is not writing, you can find her reading, knitting, or just hanging out with her family. At nights, she likes to binge watch shows or movies with her equally geeky husband. Keep up with Claudia Burgoa and subscribe to her newsletter:
https://bit.ly/NwsletterCB%20%20
To learn more about Claudia Burgoa & her books, visit
here
!
Connect with
Claudia Burgoa:
https://claudiayburgoa.com/wp/contact/
Hosted By: